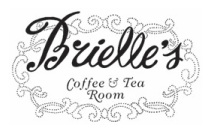 Let's face it. The holidays have become extremely commercialized and sometimes it almost feels as if you are always on the go. As a resident or visitor in Cuyahoga County, Ohio, the last thing you want to do is deal with the long lines for the latest electronic gadget or fight with an overbooked restaurant to host your holiday party. This is the time for giving and sometimes those big name corporations just don't have that special something you need. Brielle's Coffee & Tea Room, located in Independence, Ohio, might just be the answer to your gift giving needs. As one of the greater Northeast Ohio region's many independent small businesses, any of their unique and specialty novelty items serve as a great stocking stuffer or to fill any of the many boxes under your Christmas tree. Their extensive menu of specialty coffee and holiday pastries can serve as a great addition to your office party's menu as well.
Brielle's Coffee & Tea Room is truly Independence's gem with their quality service as many satisfied customers can attest to. Their warm and inviting atmosphere begins at the front door. From the moment you arrive, you are greeted by the smell of fresh-brewed coffee and a genuine smile from the staff. Regardless if you are stopping in to get a caffeine boost or to actually shop, you will find their wide range of fresh-baked pastries far too tempting to refuse try at least one.
To get into the holiday spirit, Brielle's Coffee & Tea Room is offering a variety of seasonal specialty coffee, including White Mint Mocha, Amaretto Spice Latte and even their special holiday blend. Known for their selection of holiday pastries, these delectable treats would help make any Monday morning meeting a more enjoyable experience.
Brielle's Coffee & Tea Room is Northeast Ohio's premier place to find those quirky and unique gifts that we all aim to find each year. From vintage-inspired jewelry and decorative knick-knacks to bricks of their specialty coffee and even gourmet cookie bags, you are bound to find something to serve as that extra special stocking stuffer.
Finding yourself bored with the same old same holiday decorations? Their extensive of charming and decorative ornaments and figurines can help with creating that holiday spirit within your home. And if you are hoping to create a more romantic feel to your holiday celebration with that special someone in your life, be sure to check out their vast collection of flameless candles and bath salts/oils and get your night starting or ending on the correct foot.
If you are planning on hosting a holiday get-together in Cuyahoga County, be sure to inquire about their private catering. Whether it's a Secret Santa get-together with your friends, a holiday-themed bridal/baby shower or that office party you've been dying to plan, Brielle's Coffee & Tea Room offers a variety of menu selections for parties of twenty-five to sixty people, all of which include three of their gourmet coffees and a dessert choice of gourmet ice cream or sorbet.
The holidays don't have to be stressful—you should enjoy the experience of shopping in Northeast Ohio. Whether you are looking for a stocking stuffer, a place to host your holiday get-together or just hoping for a place to enjoy a relaxing morning in Cuyahoga County, Ohio, Brielle's Coffee & Tea Room is the place for you! So come on in and enjoy a hot cup of their specialty coffees and a fresh holiday pastry. Not sure you will be visiting Independence, Ohio this holiday season? Feel free to check out www.briellescoffee.com or contact them at 216.642.9292.