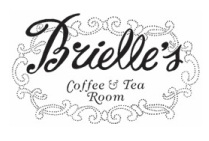 As the brisk fall air begins to howl through Strongsville, Ohio, you can keep yourself warm with one of their organic teas, gourmet coffees, or specialty lattes. Brielle's Coffee & Tea Room skilled artisans bring assorted pastries and a wide variety of café options to Parma, Ohio and Independence, Ohio. The local bakery-café offers some of the best homemade bakery treats and café sandwiches you will find. They taste just as good as home baked treats, without all of the hassle of actually having to cook them yourself. As you begin your holiday party planning, Brielle's can help you with any of the cafe specialties that you will need with their banquet catering.
Local bakery-café, Brielle's offers a coffee of the day to each of their Independence customers. You can buy any of their gourmet coffees made to order or by the pound. Each specialty drink is prepared specifically for you. Any toppings, milk changes, or flavors can be mixed and changed to suit your personal taste. Brielle's atmosphere, much like their coffees, is full of creative energy and flavor. You can find yourself relaxing with friends in Brielle's over lunch or working on your next project with a hot latte and feel right at home in either setting. Brielle's is the perfect place to treat yourself, whether it is alone or out on the town with friends.
If you love coffee shops but are trying to cut back on your caffeine intake, Brielle's offers wide variety of types and flavors of organic teas as well. Organic tea can be effective in preventing or fighting against various diseases and illnesses. Organic teas are high in polyphenols, which are antioxidants that exist in plants and help combat the formation of free radicals in your body. Polyphenols can help you stay healthy and help fight off any illness you may have. Several types of organic tea can offer half the caffeine of coffee. Organic tea gives you all of the flavor of a gourmet coffee with just half of the caffeine and more health benefits.
Brielle's Coffee & Tea Room can also help you with your holiday planning this winter. If you are having a party of 25-60, Brielle's offers private banquet catering. A $75.00 deposit is required to secure your date. Menus may be finalized up to one week in advance with the final count required three days before your holiday event. Brielle's can provide your guests with homemade wraps, salads, sandwiches, desserts, and gourmet drinks.
Local bakery-café, Brielle's Coffee & Tea Room can help take the hassle of cooking off your hands this holiday with their banquet catering or provide you with a fun, energetic café to unwind. As winter weather starts to fall over Strongsville, Ohio; Parma, Ohio and Independence, Ohio you can keep yourself with warm with their specialty drinks and organic teas. To reserve a catering spot or view their menu you can view their website, www.briellescoffee.com.