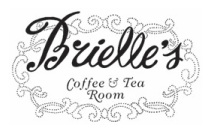 As the maid of honor, planning the perfect springtime bridal shower for the bride to be is a great undertaking. This event is in need of a warm, inviting atmosphere that will ensure your bride to be enjoys the celebration, but is also appropriate enough to invite her future mother-in-law from Garfield Heights, Ohio. The safest route is to consider hosting a shower luncheon at Brielle's Coffee & Tea Room located in Independence, Ohio. By reserving their private party room and investing in their private party catering service, everyone can spend the afternoon gushing over the bride to be while enjoying the best gourmet coffee and pastries in the Brecksville, Ohio area and you won't have to fuss with creating the menu!
The first step to planning the perfect springtime bridal shower is finding an elegant venue with a warm, inviting atmosphere. There is no other location in Independence that is warmer or more welcoming than Brielle's Coffee & Tea Room. Their private party room can be turned into the perfect venue for hosting your intimate gathering by adding your own personal touches, such as crafting your own festive springtime themed party settings and floral arrangements.
As maid of honor, you have enough on your plate as you help guide your bride to be through the process of choosing the perfect dress, locating the perfect reception location and ensuring the florist has the flowers she wants to accent her special day. When it comes to hosting her bridal shower, take advantage of Brielle's Coffee & Tea Room's private party catering service and let the professionals do some of the heavy lifting.
What could lead to a more intimate and relaxing ambience than enjoying some of their fine gourmet coffee and pastries?
With an extensive menu with everything from simple appetizers such as a more traditional fruit and cheese tray, to their mango chicken over vegetable pasta and mouth watering quiches, it's not hard to see why they are one of the top catering services in the Garfield Heights area. Each catered party can withhold up to sixty people and includes three of their delicious gourmet coffees as well as a selection of either gourmet ice cream or sorbet for dessert.
Your bride to be will be more than appreciative for your thoughtfulness in planning her bridal shower. And by allowing them to take the reins and handle the menu for your event, you will have more time to do some shopping in Brecksville for the perfect party favors for all of your guests as well as start planning the other big event… the bachelorette party!
There's really no need to hesitate in deciding. Known for their fantastic gourmet coffee and pastries, this family owned and operated business is more than your average coffee house near Brecksville, Ohio and Garfield Heights, Ohio. They take pride in providing quality service, a warm, inviting atmosphere and delectable pastries to go along with their wide selection of specialty coffee. So take advantage and book Brielle's Coffee & Tea House's private party catering service in Independence, Ohio for your springtime bridal shower by calling them at 216.642.9292.