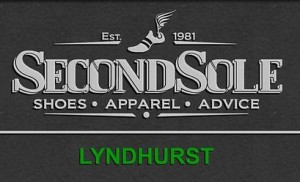 Take a look outside of your Cuyahoga County, Ohio window. We may be nearing the end of summer, but the weather is as beautiful as ever! Now is the perfect time to lace up your tennis shoes and head outside for an invigorating run! But, you notice that your footwear has definitely seen better days. It's hard to enjoy a run when your rubber heel is falling off! Fortunately for you, Second Sole in Lyndhurst, Ohio frequently offers great running shoe deals to Cleveland, Ohio area natives. When you print off your coupon from iShopCuyahoga.com and stop in to Second Sole Lyndhurst, you can save on Montrail and Pearl Izumi shoes!
Whether you're a frequent runner or not, you know when it's time to toss out your old shoes and invest in a new pair. If your current footwear has ratty laces, torn rubber, or a flimsy insole, they definitely belong in the garbage! And it's not just for the sake of appearance, but for your own safety too. Using worn-out or improper shoes for running can lead to exercise-related injuries that you won't want to deal with! Instead of risking torn muscles or lower back pain, it makes more sense to purchase a brand new pair of shoes. Worried about spending a ton of money? Don't be! You can stop by Second Sole Lyndhurst's page on iShopCuyahoga to find great running shoe deals!
If it seems like Second Sole in Lyndhurst is always having some sort of footwear special, it's because they are! Second Sole wants to offer the quality footwear that runners need, at a price they can afford. Right now you can save on all Montrail and Pearl Izumi shoes. That's right, just by printing off a coupon from iShopCuyahoga, you can get 20% off your brand new shoes! But Cuyahoga County residents should hurry up, because the coupon expires on August 31st! So snatch up that coupon, jump in your car, and take the quick trip from your Cleveland home to Second Sole Lyndhurst!
It's never a good idea to exercise with inadequate footwear. And it would be horrible to miss out on such gorgeous weather in Cuyahoga County, Ohio because of an exercise-related injury! So instead of continuing to wear your raggedy footwear, visit iShopCuyahoga.com and print off your coupon to save on Montrail and Pearl Izumi shoes. Once you have your coupon, you can drive the short distance to Second Sole at 5114 Mayfield Road in Lyndhurst, Ohio to view their large selection. To find out about more upcoming running shoe deals, go to Second Sole Lyndhurst's website at www.secondsoleohio.com or give them a call at 440-449-8508.